Darius is a dancer, activist and creator. His articles will focus on culture, trends and more, find them on this page!
To get in contact with Darius, use the form below.
Even Sainsbury's joined in by posting a very poignant statement. After reading the statement, many of their regular shoppers decided to boycott the store after Sainsbury's said, "We proudly represent and serve our diverse society and anyone who does not want to shop with an inclusive retailer is welcome to shop elsewhere."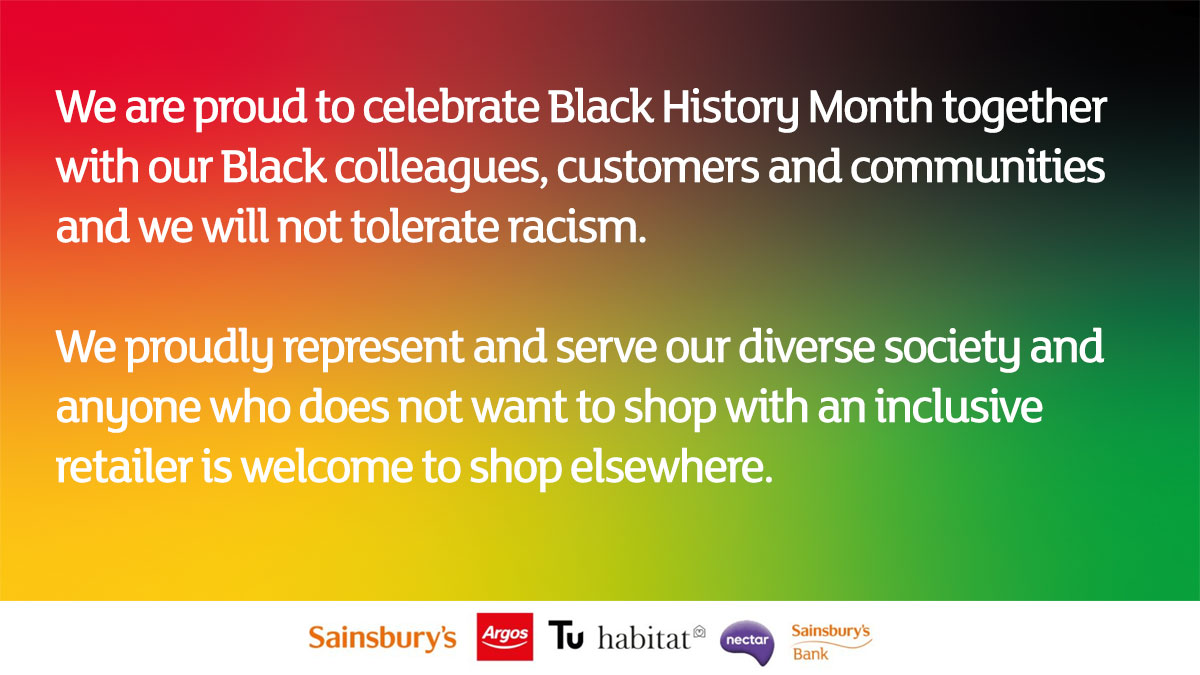 Originally tweeted by Sainsbury's (@sainsburys) on 1st Oct 2020.
Whether this is just a moment for these companies to be purely performative or if they are wanting to genuinely push forward towards change, I personally don't care. Regardless of their intentions, they have made statements and created content which has revealed many true feelings that have hidden within the underbelly of the UK, but the facts remain, as Ashley Banjo recently said in his GQ interview, "You can believe that black lives matter, and you can accept that as fact without aligning yourself politically or even aligning yourself to what you might think is right morally as a person. But if the fact [that] "Black Lives Matter" makes you feel uncomfortable, you have to ask yourself why."
After seeing Jimmy Akingbola's new comedy panel show, "Sorry, I didn't know," and Alison Hammond's recent documentary on ITV, I have been really inspired to keep the conversation of positive representation going. From all of the modern-day figureheads that I have already mentioned, I also gain inspiration from those in our past as well. This is why I created my most recent Youtube Videos, "25 Black Inventors that impacted the world." If you like to read, please continue reading to find out a few of my favourite inventors, however, if you would prefer to watch 2 videos, they are right below!
5 Black Inventors you need to know about
William Pasi Sachiti
Sachiti was born in Harare, Zimbabwe, but moved to the UK when he was 16 years old. He then went to University in Aberystwyth in 2015 to study artificial intelligence and robotics. (This was recently one of the answers on Sorry, I didn't know) He tirelessly worked with a team of scientists to find a way to deliver packages autonomously.
After receiving funding from the University in 2016, he founded the Academy of Robotics, a vehicle manufacturing company, to develop Kar-go. Kar-go is a driverless car that can deliver multiple packages by using a combination of advanced robotics and driverless vehicle technology. Just wait a couple years and Futurama will actually exist… I am unsure if that is amazing or terrifying…
Dr Shirley Ann Jackson
Dr. Jackson was the first-ever black womxn to graduate from M.I.T. with a Ph.D. Despite the bigotry she encountered daily, she remained a quiet student who focused on her work and didn't rock the boat… Until one fateful day. The assassination of Martin Luther King in April 1968 changed that. Knowing M.I.T. as well as she did, she realised that she was in a position to "open the aperture" for more minorities and women at the Institute. She helped organise a group of African-American students that ultimately became the Black Student Union.
She is also responsible for many impressive telecommunication inventions that we all use today such as Caller ID, Call Waiting, and Fibre Optic cables. You know those cables that are helping you to receive wi-fi to be able to read this article… you see how influential Dr. Jackson has been.
Garrett Morgan
If you are a road user, the likelihood is that you have seen a traffic light before, Garrett Morgan was the brilliant mastermind behind the traffic light like we know it today. After witnessing a frightening accident between an automobile and a horse-drawn carriage, Morgan began inventing a traffic signal that could control the flow of traffic. Other inventors had experimented with traffic signals, but in 1923, it was Morgan who was the first to acquire a US Patent for an inexpensive way to produce a traffic signal. So next time you are at a traffic like, thank my man Garrett Morgan.
Patricia Bath
Have you ever wondered how we got the laser tool for eye surgeries? Without the innovation of Patricia Bath, the procedure may not even be possible. She began life in Harlem, NY, with a burning passion for science at a very early age. She then went onto medical school at Howard University and completed a fellowship in ophthalmology (Medicine for the eyes) at Colombia.
In 1981, she invented a laser tool called the Laserphaco Probe that helped to restore the sight of millions worldwide. This even included people who had been blind for over 30 years. This tool is used to correct cataracts which can lead to blindness. With this life-changing invention, Bath was the first African American doctor to receive a medical patent.
Lewis Latimer
Without Latimer, Edison would have never created this light bulb as we know it today. Yet somehow he still seems to take all of the glory away from Lewis Latimer. Latimer created the carbon light bulb filament which allowed Thomas Edison's invention to actually work. I recently spoke about this on the Oxfordshire Youth Podcast because so many inventions are whitewashed. I think that it is about time that we learn about these amazing figures.
From the guitar, straightening comb, sanitary belt, supercomputer, peanut butter to the baby buggy, and countless other inventions, Black people have been here and will continue to impact this world in a big way!
---
25 Underrated Black British Female Creatives you need to know about! 09.07.2020
When you think of Black women, the first people that probably come to mind are Beyoncé, Oprah, and Michelle Obama. However, when you think of Black British Women, it is likely that the only ones that you can pinpoint are Naomi Campbell, Jessica Ennis-Hill, and Maya Jama. Because of British culture – amongst many other cultural factors – we all tend to be very awkward with being proud of our achievements and letting other people know about them. The whole "Don't be too loud" mentality can often push down and belittle the achievements and talents of British People. When you take into account the unspoken sexism and racism that happens within our systems, you begin to realise why you may not be able to recall as many brilliant black British women as you would be able to recall white British women.
After seeing a retweet by the amazing British Comedian, London Hughes, I felt very compelled to write this article. She was talking about the difficulties of being a black female comic in the UK whilst she was in conversation with Bobby Friction on the Jeremy Vine show on 30th March 2018, "The world of comedy in Britain is very much a white man's world… There are loads of other black female comedians that you probably don't know as well as you should because (I guess) we're not seen as the stars; the stars always go to the men. We just have to work really hard!" Her words really resonated with me so I decided to compile this list of 25 Black British Female Creatives that you need to know about that are currently so underrated – in my humble opinion.
I obviously had to start with London. I first saw London on Scrambled on CITV, it was on TV on Sunday mornings before I would head to church with my family and I would always find her hilarious. I will be completely honest with why I am starting with London, it is simply because I have met her. Here's the little back story: At the beginning of 2019, I was in Los Angeles with my family as we were performing at one of the Oscars Pre-gifting lounges (A place where celebs come to get gifts) and we just so happened to be in the same hotel. She was in no way expecting to be recognised whilst she was out there, but I recognised her instantly. We spoke to her and she was amazingly down-to-earth. We even snapped a photo with her. It makes me so happy that someone that I met is doing so well. She is a multifaceted woman who has presented Extreme Hair Wars on 5STAR (a Family Favourite) been a panelist on Don't Hate the Playaz on ITV 2 and even rocked the Edinburgh Fringe festival with her excellent, expletive-laden stand up. There are no limits to her potential and the world is only just catching up to her. She is currently in Los Angeles – you see the connection now – working on a pilot of a sitcom based on her own life with Issa Rae's Insecure co-creator, Larry Wilmore. Obviously, a lot of it is under wraps, (And paused because of the Rona – sorry to remind you) but she did say the following in an interview with The Guardian, "I wanna bring black British culture to America; the positive side to black British culture, none of this Top Boy stuff." Don't sleep on London Hughes because she is coming with some serious talent!
https://www.instagram.com/p/CCOjTjhJym3/
You may recognise her face but you may not know that she is an international model and entrepreneur. She was scouted at 14 years old, has been through the highs and lows, and has been modeling for over 11 years now. Known to many as a Victoria's Secret model but she has done so much more than strutting with her wings for the last 4 years. She has campaigned for Fenty Beauty and Pat McGrath and she has walked for Marc Jacobs, Tom Ford, Tommy Hilfiger, Fenty Puma, and Yeezy. Anderson has never let the limitations of the perception of models to constrain her because she is also a boss. LAPP the brand is her platform where articles are written by phenomenal women and a brilliant luxury athleisure range which are well worth investing in. LAPP (which stands for Leomie Anderson The Project The Purpose) was founded in 2016 as a direct response to the disproportionate lack of resources that were readily available for young women who wanted unfiltered opinions. The powerful platform exists after Anderson's outspoken stance on women's issues, she wrote an open letter on Instagram that shared a heartfelt message about sexual consent, having the right to say 'No' her first capsule collection was based around reclaiming the word 'No' which was extremely poignant at the time of its release because of Donald Trump's disgustingly misogynistic views, words, and actions. From empowering women, promoting confidence, positivity, and unity to discussing misogynoir in the fashion industry, LGBTQ+ issues, and diversity, LAPP and Leomie are unforgettable forces to be reckoned with.
Let's talk about the powerhouse that is Patricia Bright! One of the best YouTubers. Period! She is one of the realest creators on the platform and continues to reinvent herself time and time again. If you are unaware of her, she started her YouTube journey back in 2010. This was at a time where there were no payouts for creation and she in fact kept her channel a secret. Her channel spans themes of fashion, beauty, motherhood and life advice. Not only is she a YouTube superstar with 2.91 million subscribers, she is bawse businesswoman! She has a new venture called 'The Break Platform' where she has released a powerful podcast called "Caught Off Guard" where she has interviewed brilliant women such as Leomie Anderson, Kamille, and her sister, Maureen O, who Patricia has worked with for the last 5 years. The Break Platform is also all about finances and she has made a fantastic 9 step course to help women (and men) to start a business and gain financial independence. That course is only £45, most people can afford to invest in themselves with Patricia's help. In my personal opinion, The Break Platform is one of the best YouTube channels on the internet because it is creating ways for all women to gain independence, become financially literate, and create something for themselves. Bright can truly do it all, from running businesses, slaying the YouTube game to being a fantastic mother of two brilliant daughters. Basically, you should go and subscribe right now because it will enrich your whole life!
https://www.instagram.com/p/CCGhqjJDbBX/
Shout out to this brilliant Sistar! Her name was recently in the news recently when she spoke out again her racist treatment whilst she was on the X Factor. Others who came forward about similar issues within the music industry and on television include Alexandra Burke, Leona Lewis, and Leigh-Anne Pinnock from Little Mix. Back in 2011, 19-year-old Misha Bryan stepped onto the X Factor stage in front of the judges at the time Louis Walsh, Tulisa, Kelly Rowland and Gary Barlow. She auditioned with a brilliant rendition of Aretha Franklin's Respect where she also rapped a poignant verse. Her unique style, professionalism, performance, and fashion struck a chord with her mentor Kelly Rowland but that same brilliance seemed to rub some of the other judges and contestants the wrong way. They tarnished her name with the "Angry Black Woman" narrative – a narrative that is steeped in misogynoir. Phrases like "New urban Queen" from Louis Walsh should have really shown some red flags but, in Week 3, when she sang Prince's Purple Rain, she was attacked. During his critique of her, Louis said, "You're a very confident performer, I hope you're are not too over-confident." To which Misha replied with "Pardon?" This was closely followed by Tulisa' attack on Misha where she accused her of bullying other contestants. For her to be vilified in such a public manner was disgraceful on Tulisa's part and should have never been allowed to happen. It was unjust and completely unrelated to her singing ability. Kelly Rowland rightfully stood up for Misha and didn't allow it to escalate any further. Aside from her X Factor journey, she has continued to create phenomenal music that speaks to people and will make you want to move. From 'Do You Think of Me,' 'Rosa Parks Flow' to 'Letter to My Sistars,' she has never let the negativity that was spewed all over the newspapers and media to pull her down despite how it affected her at the time and has had mental effects on her. She remains gracious, creative, and effervescent and I cannot wait to see so much more from her.
Public Speaker. Cultural Curator. CEO. Creative Consultant. Entrepreneur. Queen! Back in 2018, Forbes listed the Ghanaian born cultural curator, creative consultant, and entrepreneur as one of 100 women to follow on Twitter and LinkedIn. I would also recommend that you follow her on Instagram as well. Her brilliant passion for diversity to be seen in various industries and her desire to create spaces for forward-thinking conversations awarded her as one of TimeOut's 1 of 50 Londoner's shaping the city's cultural landscape. She has founded three amazing initiatives that are helping to elevate women: Black Girl Festival, BIG SIS, and Unmasked Women. Unmasked Women was founded in 2016, this exhibition channels the Black British female experience throughout creativity. This successful show catapulted a breadth of dialogue on mental health with features in magazines such as Dazed & Confused, i-D, Huffington Post, Afropunk, Buzzfeed and so many more. Since this amazing success, Nicole has curated an exhibition at the V&A, produced several discussions with Tate Britain and delivered projects and talks with the ICA and Southbank Centre. BIG SIS is a new platform, that she created in December 2019, dedicated to supporting the personal development of creative working women. The Black Girl Festival will be returning in 2021, this fantastic event that celebrates Black British women, girls & non-binary people. In previous years, they have had amazing speakers such as Model and Content Creator Enam Asiama, Podcast host Tolani Shoneye, and Labour Member of Parliament Dawn Butler. It is safe to say that Nicole is part of the generation of women that are using their platforms to advocate for so many other people and it is so brilliant to see.
Forever standing up for what she believes in, Afua is making necessary waves for change. The writer, author, TV presenter, documentary maker, and former barrister will always stand against the injustice and unfairness in this world. During the most recent resurgence of the Black Lives Matter movement in the wake of George Floyd, Breonna Taylor, and Ahmaud Arbery's murders, she released a very poignant video called "Taking Down Statues Isn't Erasing History, and I'll Tell You Why." That was created with Show Studio. It was a video that was shared a lot around social media to reiterate the message about the taking down of statues doesn't stop anyone from learning about history. You may have seen Afua on Sky News, Channel 4, CNN, and the BBC on shows such as Question Time, Newsnight and The Pledge. With a new documentaries on the horizon, she has created some of the most honest and revealing documentaries of our time. Afua is also one half of the fashion brand Sika, which creates ethically-made, African inspired men's and womenswear clothing, made in Ghana, sold globally. You may even see her wearing her Afua X Sika pieces during broadcast appearances or interviews.
If you're a fan of Little Mix, Clean Bandit, and Jess Glynne, you better become a Kamille stan asap. With over 12 UK Platinum records, Kamille is an accomplished singer and award-winning songwriter who has written hits for the people above as well as creating her own music where she has collaborated with Wiley, Mabel, and Gorgon City. The most memorable song that she has written is Little Mix' Number 1 song, "Shout Out To My Ex" (Still such a bop) which she won Best British single of the year at the 2019 Brit Awards. In 2018, she was named A&R Awards Songwriter of the year. She is responsible for Little Mix bangers such as "Think About Us," "Strip," "Power" and so many more of their fabulous female empowerment hits. Even if you have not heard her music – You 100% should by the way – you have in fact heard her voice on Clean Bandit's 'Solo' featuring Demi Lovato. On top of her amazing work with Little Mix and Clean Bandit, she has racked up 6 Number 1 hits and 25 songs that hit the top 10. She was worked with such a breath of British artists including JLS, Olly Murs and Jessie J. If you are looking for a new artist to add to your lockdown playlist, Kamille is your girl, 'Raindrops' is a personal favourite. As one of the UK's most successful female songwriters and producers, it is safe to say that the British music scheme is in good hands with Kamille around!
If I said to you, "This is America!" you may clock that you have seen Sherrie Silver before. Sherrie became globally famous after her choreography work with Childish Gambino on the high-octane, socially conscious, and activism driven music video for This is America. She was even in the video! From there she has been sky-rocketed into the stratosphere but many have seemed to have forgotten how deeply talented this woman is. She is much more than just a dancer, she is a movement director, creative director, actress, philanthropist and she is UN IFAD Advocate for Youth. The Rwandan-born dancer will always salute her African heritage through her dancing. In the 'This Is America' music video, she incorporated 10 traditional dances from the African diaspora, dances like the South African Gwara Gwara and The Shoot. Silver got her start on YouTube before she grabbed the attention of millions and now she works on charitable projects. You may have seen her work without even realising that it was her. Cast your mind back to the 2019 Met Gala: Notes On Camp, she was the movement director for the fashion film Vogue Magazine created, so she has now worked with the likes of Lizzo, Yara Shahidi, and Zendaya. Whether she is dancing on stage with Ella Eyre or dancing around her kitchen, Sherrie's activism, work, and creativity will always make room for this phenomenal woman.
https://www.instagram.com/p/B6L8R6dHzFr/
Talking about Phenomenal women, let's talk about Laura Mvula. One of my favourite voices, this woman knows how to sing! Alongside many other women such as Mahalia, Rai-Elle, Celeste, and Greentea Peng (You should add them to your playlist as well), Mvula is one of the unique voices that has come out of Britain. This bald-headed Queen from Brum busted onto the British music scene in 2013 with her debut album Sing to the Moon. I remember being introduced to her music by my secondary school music teacher. 'She' was her first single that came out in 2012 and it is a beautifully written song penned by Mvula herself. The song that she is most famous for is her second single, Green Garden. Until that point, no one had heard anything like the brilliant music that she was creating. The music video for Green Garden is a brilliant celebration of being black and this song will change your mood instantly. The fascinating highs and the luscious lows of her voice will make you want to continue to listen to her. She created one of the ultimate black female empowerment songs known to man – Phenomenal Woman. This song will forever give me goosebumps and will remind me of the phenomenal black women in my life such as my mum, grandmothers and aunties. I would highly recommend watching the music video as well as that is a brilliant ode to the amazing styles of African culture and how our brilliance has impacted the world we live in today. Laura Mvula is a visionary and her music speaks volumes, you need some Laura Mvula in your life.
Dame Sharon Michele White DBE
A lady that you may never have heard of but her work has affected you greatly. Dame Sharon Michele White DBE is a senior businesswoman and the former Chief Executive of Ofcom from March 2015 until November 2019. Within that time scale, she would have affected the regulation of TV, Radio and video-on-demand services as well as fixed-line telecoms, mobiles, and postal services. Basically, they keep us connected. Her influence is so great despite us all not knowing much about her. She is no stranger to being a trailblazer as she was the first black person and second woman to become a permanent secretary at the Treasury. She is also one of the newest chairmen of the John Lewis Partnership. Her career has been a stellar one and she continues to operate with so much grace.
Bafta Winner. Breakout Star. Christian. Warrior. Despite the fact that Letitia has been acting since 2011, she only received major critical acclaim after her roles in Black Panther, Guava Island, Ready Player One, and Avengers: Endgame. She started out in Holby City as Ellie Maynard and continued to progress to shows such as Top Boy, Humans (Alongside Gemma Chan) and Black Mirror. During an interview she gave during her Black Panther Press tour, she spoke to former Premier Gospel Radio host, Lady T (Another underrated black British woman – and a close family friend of mine) about her faith and how that comes into play whilst acting. Whilst being interviewed with Daniel Kaluuya, Letitia told Lady T about the Christian connotations within Black Panther, "Something maybe I put into it is faith. Just having faith that things [are] going to work out and follow-through, like Shuri has faith in her brother, she has faith in her country, she has faith that anytime there might be any challenges that might occur – we're going to conquer it." That is such a brilliant mentality to have and it is evident that she brought so much to the three-dimensional character of Shuri. You need to keep an eye out for her upcoming projects: Small Axe, Death on the Nile, and Silent Twins.
The queen has officially arrived! Best known for her Queen's speech series of freestyles, (Episode 4 was the fan favourite) Lady Leshurr is lyrical rap star that never holds back. 'Black Panther,' 'OMW,' 'Mode' and 'Black Madonna' are just a handful of her certified bops. Her most recent project 'Quaranqueen' recatapulted her music into the lives of a new generation who didn't have the pleasure of living through the Queen's Speech era. Her eclectic sound comes from her influences of dancehall, grime, reggae and hip-hop. You will be seeing her on your screen more on Celebrity MasterChef as she is one of the celebrity contestants – one of 4 amazing black female contestants. She is no stranger to TV as she has been a team captain on the award-winning Don't Hate The Playaz alongside London Hughes, Maya Jama, Jordan Stephens (formerly of Rizzle Kicks) and DJ Shortee Blitz. She is one fantastic woman who has been able to perform alongside Nicki Minaj whilst she was on tour, she performed moment for life and Queen's Speech 4, Nicki even did that dance as well. Leshurr is a certified bop star and she will always encourage you to wash your hands and brush your teeth… if you didn't get those references, you need to go and vibe out to her right now – after you have read this of course.
If you do not know Brenda yet, you will by the end of this paragraph. Not only is she one of the hardest working people, she is the definition of a boss queen. Period. Stylist, model, advocate, entrepreneur, model agency owner and so many more titles that could describe the greatness of this woman. She consistently users her voice and her platform to call out injustices. On 16th September 2017, she wrote an open letter addressing the rude photographers that vilified her whilst she was walking in Pam Hogg's show. She wrote, "So, when I came off the runway I spoke to one of the backstage assistants and bursted into tears. I wasn't crying because I was bullied for as this wasn't the first time I have been bullied for being black. I cried because of what black models have to go through in this industry…This is INSANE. Black models should not be looked down on! We DO NOT all look the same, We are not ALL the same and we are ALL beautiful in our own different ways. Stop walking over US. Stop the Racial Discrimination." This outcry from Brenda led to her pushing for tangible change within the fashion industry, so much so that she built her own Modelling Agency called Ciel Model Management. She is a huge advocate for diversity and her agency is no different, inclusivity is at the heart of what she does. In an article with Hunger, she said, "Genuine diversity will involve all types of models irrespective of race, religion, gender, sexuality, physical ability and so on." Alongside her phenomenal efforts within the fashion industry, her and her fiancée are creating a powerful movement to bring an end to systematic racism through teaching. Change Systematic Racism is a way of them working to bring about a positive, radical, and necessary change in the lives of those who have been oppressed for centuries. I cannot wait to see what Brenda does next.
First seen in BBC's Grange Hill as a child, Amma Asante MBE is now a BAFTA award-winning filmmaker, screenwriter, and she is the Chancellor at Norwich University of the Arts. The former actress has had a directorial hand in some of the nation's favourite TV shows. Any fans of The Handmaid's Tale better thank Amma for the 'God Bless the Child' and 'Useful' episodes of the TV show. She even directed two episodes of Mrs. America (Such a fantastic cast, Cate Blanchett, Uzo Aduba, Rose Byrne, and Sarah Paulson) which explores the battle between the anti-feminist movement and the (more intersectional -yet we have further to go) feminist movement that we now know today. In an interview with The Guardian, Asante spoke about Shirley Chisholm (played by Uzo Aduba) who was the first black women to be elected to Congress, she said that, "On the face of it, Chisholm failed. But without her, I don't think there could have been an Obama. I don't think Hillary Clinton could have thought about running." Let us salute Shirley Chisholm for all she did! Now back to Amma Asante. In 2004, she won a BAFTA for her first film 'A Way Of Life,' this psychological thriller received critical acclaim and her second film, 18th-century-period drama Belle, didn't receive the same kind of praise. She realised that her male counterparts would get many more chances, bigger budgets, and vast opportunities. Asante's film making ability has been somewhat belittled in the UK but has been embraced in America – this is often why a lot of British creatives leave to go across the pond – despite being a small fish in an even bigger pond, at least there was some more recognition for all the brilliance that she created. I am so excited to see what is next in the pipeline for her, The Billion Dollar Spy is currently in pre-production so I cannot wait to find out more about this intriguing project.
No matter what race you are, you need to read Candice's book, "I am not your baby mother." Actually, the book is sold out so I am not sure if you can get it right now, but you need to go and follow her. She is such a fantastic advocate for diverse motherhood, she is the founder of Make Motherhood Diverse – an Award-winning platform that tries to challenge the single story of motherhood – and her book amplifies that message. It was published during this global pandemic and the sales of this book were skyrocketed on the back of the brutal murder of George Floyd. Because the world is at a stand-still, we all have time to evaluate ourselves and get better and many people took that opportunity to purchase her book and learn. On an appearance of Good Morning Britain with Lorraine, she mentioned that the success of her book was 'bittersweet' because of the reason behind the success. Brathwaite's voice is one of the black female voices that we need to start listening up to, the mummy blogger is never afraid to tell it like it is and we would never want her to change. You really should get used to seeing this phenomenal woman on your screens, after recently presenting the fashion section of Good Morning Britain with Lorraine to featuring in campaigns with Pampers, Specsavers, and Ella's Kitchen, she is set for world domination with her powerful messages, amazing style, and consistency.
If you live in Oxfordshire and you have not heard of Jen Berkova, I am judging you a little bit. Singer-songwriter Jen Berkova is local BBC introducing star, the tones in her voice will send tingles down your spine and her choice of lyrics are just beautiful. I remember first hearing Jen sing at The Celebration of Oxfordshire Youth (of which I am their youngest trustee) at Blenheim Palace in November 2017. The exquisite tones in her voices made me stop in my tracks as I was wandering around The Orangery. Fast-forward a couple of years, in the summer of 2019, she is holding her headline show at the Bullingdon in Oxford. Everyone was there to hear her unique sound – R'n'B mixed with Soul – with her heartfelt and vulnerable lyrics. Berkova's songs, Crazy 4 u, (My personal favourite) Darling and Emotions will make you feel so much whilst you are listening to her expertly composed melodies. There is so much in store of her and lockdown has not and will not slow down the amazing music she has to put out into the world.
Another singer that I think is massively underrated, NAO. I first heard her song 'Girlfriend' on Radio 1 in 2016 and I was astounded that this was the first time I was hearing her voice. I went home and searched for music by her and I was instantly in love. There is no one in this world who sounds quite like her and she embraces every part of her brilliance. The singer-songwriter and producer's 'Wonky-funk' sound is an amazing culmination of R&B, Funk, and Electronic Music. Her first EP was an absolute triumph in my humble opinion, if you are going to check out her music, you have to start with 'So Good' and work your way to her most recent album 'Saturn.' If you are searching for the ultimate summer tune, listen to 'Drive and Disconnect.' She was a nominee for an MOBO award in 2015 as the best newcomer. When you delve into her music, you will realise that she deserved to win that award. She even has some amazing song-writing credits with some of your absolute faves: Stormzy (Velvet/ Jenny Francis from Gang signs and Prayer), Nile Rodgers & Chic, Mura Masa, and Ariana Grande with 'Be Alright' from her Dangerous Woman album. She has been nominated many times for various awards, Grammys, Brits and the Mercury Prize but hasn't won yet. Her talent is undeniable and no award could truly amount to the limitless talent that this woman has!
The reason I have loved writing this article in particular is that it has given me scope to find out about black British women I haven't heard about yet. Deanna is someone who I have heard the name of but never felt the real impact of her work until I heard 'Being British.' The way she formulated these words hit me right in the depths of my soul because I could relate wholeheartedly with people questioning your British identity. The raw emotion that she displaced through her spoken word is something that everyone needs to witness.
Her protest poetry is so important especially right now and I would love to see her work added to the school curriculum just like Benjamin Zephaniah. I believe it would be a valuable aid to children's education and would help in the battle to diversify education. Let me just sing a few of this international writer, performer and facilitator's praises. She won UK Poetry Slam aged 18 which established her as a leading force in contemporary poetry. She has secured titles such as ELLE UK's '30 inspirational women under 30′, The Female Lead's '20 in their 20's and Cosmopolitan's No.1 Trailblazing Woman, as well as winning a Rising Star award from the Hospital Club. She has been commissioned to perform for the BBC Sport #ChangeTheGame campaign as she reimagined Rudyard Kipling's famous poem, If, to empower the amazing women's summer of sport that happened in 2019. Deanna has done so much and been such an inspiration to many young girls especially because of that BBC Sport campaign, I hope that her voice and input into the conversation will be remembered in history.
Known for her varied sound, RAYE is a singer-songwriter who you most likely heard on Jax Jones' 'You Don't Know Me.' This song hit number 3 on the charts but this was not the first time that Raye had released music. She was signed in 2014 and has been creating contemporary R&B music, songs like 'Flowers,' 'Shine' and 'Bet U wish' show off the vast range of her voice. Some of her songwriting partners include John Legend, Ellie Goulding, Hailee Steinfeld, and Mr. Eazi, any fans of 'A Good Night' by John Legend ft BloodPop or 'Capital Letters' by Hailee Steinfeld X BloodPop should be thanking RAYE right about now. As well as lending her voice to some of the biggest bops of the 2010s, she is also a member of Artists for Grenfell.
You will definitely recognise Sharlene as she is a part of the Kingdom Choir, you know the choir that absolute shut down Prince Harry & Meghan Markle's wedding. Long before the world knew her as a member of the Kingdom Choir, I knew her as Sharlene, the phenomenal singer, and dancer that would always encourage me in church. Her message of empowerment, love and self-acceptance is so refreshing especially in a time that is trying to tell you who you should be. Her song 'You' is a song that you need to add to your playlist right now, it will uplift you and remind you of the importance of being unique. The music video for 'You' won Best Solo, Best Inspirational and Music Video Of The Year at the Jump Music Video Awards 2017 and rightfully so. The music video depicts a beautiful young black girl with glasses and afro-textured hair, she grows up and it shows the struggle to find your beauty as a black woman. I would recommend watching it because it will uplift you.
Sharlene Monique is no stranger to big stages or the TV screen, she has performed on The Today Show, The Kelly Clarkson Show and at The Hollywood Bowl. She also had the opportunity to perform in 'Call The Midwife' in seasons 7,8 & 9. Her songwriting ability is second to none, these big-time songwriters could learn a thing or two from Sharlene. 'Awe & Wonder' ft. Billy Crabtree is a song of hers that you need to add to your summer playlist. With a strong faith in God, limitless potential and her husband and partner in crime, Chris, by her side, there is nothing that she cannot achieve. Sharlene is currently embarking on a new adventure, the journey of motherhood and I am personally so excited to meet their little new-born girl, Tahlia Monique Heather Morris.
https://www.instagram.com/p/CBoDIm6lNBg/
Let's go in with the full name because I think her full name is beautiful and before today, I didn't know it. Simbiatu 'Simbi' Abisola Abiola Ajikawo but better known by her stage name, Little Simz, is such an exciting artist. Her deliciously rhythmic bars are consistently enjoyable whether you are a fan of the explicit language or not. A boundary-breaking artist who lets her work do the talking. On top of being a sensational artist with songs like 'BAD,' 'Bars Simzson' and 'Might bang, Might not,' she is also a brilliant actress. Fans of Top Boy will know about her amazing range. I am sure young Simbi would be so proud of the progression that Little Simz has achieved in the pursuit of living out her dreams. And she did all this under her own independent label AGE: 101 Music. We salute a visionary queen!
It is likely that the only high-profile Black British female comedians that you know of are London Hughes and Gina Yashere. The main reason you know them so well is because they went and took on America, and succeeded, despite the fact that there are many more such as Judi Love, Michaela Coel (now world-famous because of 'I May Destroy You') and Angie Le Mar. You may recognise Gina Yashere for her appearances on Live At The Apollo and Mock The Week. She also created and performed the vastly popular comedic characters of Tanya & Mrs Omokerede on The Lenny Henry Show. This hilarious lady is well-loved around the world yet her work never seems to get the praise it deserves in the UK, this is probably why going to America was such an easy decision. After making it to the final 10 of the NBC show 'Last Comic Standing,' she staying in America, and quite frankly, she crushed it! She self-produced 3 separate 1 hour stand up specials, 2 of which are currently streaming on Netflix. Fans of The Daily Show with Trevor Noah will recognise Yashere as the British Correspondent but that is not all. She is an in-demand voice artist, with roles in Bromwell High and The Rubbish World of Dave Spud. It is no surprise that she has won the "Best Comedian" award at the Black Entertainment & Comedy Awards (UK) for the 4th time. She is producing, writing, and acting on the new sitcom Bob hearts Abishola, which she co-created with Chuck Lorre, & is currently airing on CBS. The City of Angels has been kind to Gina!
Before I say any more, you should all go and follow Toni Tone on all social platforms, especially Twitter! Social content creators usually get a bad reputation based on non-disclosed ads and the advertisement of toxic products to young people just so they can make a quick but of cash. Toni Tone (alongside many other black British female influencers like Rachel Bada, Nella Rose & Breeny Lee) is so different. She is so vocal about various issues surrounding women's rights, relationships, and finances. She is such a brilliant role model for young girls as she does not reinforce a monolithic view of what womanhood should be. Her eye-opening and insightful views that she shares online has been featured in publications such as Cosmopolitan, Huffington Post, Elle, and many more. She has also been shared by many celebrities including Hailey Bieber, Amanda Seales, and Oprah Magazine. Her powerful voice has granted her opportunities for her to collaborate with and speak at events with Paramount UK, Warner Music, and Glam Africa Magazine. Did you know that she led an award-winning skin cancer campaign for the UK's National Health Service? On top of all of that, she has run workshops at the University of Oxford on social media branding and, in February 2019, Toni was announced as the first-ever ambassador for the charity Young Women's Trust. In women, we trust!
After writing her first bars when she was 11 years old, she has been a rising star ever since. Ms Banks is another exciting young rapper who brought us hits like 'Bad B Bop,' 'Snack' and 'Again.' The world of hip-hop likes to try and make the women feel small but Ms Banks will never let that happen. She is all about rising to the top with her sisters which is such a brilliant way to be. Gangsta (Remix) by Darkoo ft. Ms Banks and Br3nya was a bop that was enjoyable for all. These three black British women squashing the ideal that women have to fight with each other to become successful. In the era of Nicki vs. Cardi B, we need to stop pitting women against women if we are going to move towards a brighter future. There is not just one great female artist, there are many. This is why Ms Banks message and collaborations are so important. After being on tour with Nicki Minaj whilst she was in England, her popularity grew massively. This was in close succession to her Brit Awards performance with Little Mix with their song 'Woman Like Me' which originally feature Nicki but I believe that she was not available for the award show so they collaborated with Ms Banks. What a triumph that was! Her mission to "give 'thicc' women like her more confidence, and to let young black girls from London and across the globe 'know that the can be whoever they want to be," is a dream that has become more of a reality for this phenomenal woman. Also, Ms Banks, if you need a sign language artist to help get your music out to the deaf & hearing-impaired community, Azariah Sign is the girl that you need to get on your tour… you know when the world opened back up properly and we can have concerts again.
Trina Charles and Jay-Ann Lopez are bloggers with substance who are consistently and constantly elevating the black community. The best friends empower black women in any way that they can, through showing them ways to style their natural hair to supporting black-owned businesses and artists. Basically, if it's black-owned, Culture want to know about it. I remember first seeing the duo on BET (Black Entertainment Television) during BET Black history month in 2016 when they shared their candid opinions on the Pretoria Girls High School issue. I was so enthralled by their words and I instantly had to find out more about them.
They speak boldly about 'otherness' in the workplace based on your profession, about people touching your hair, and the need for more representation to change how afro hair is viewed. With recent mainstream covers of British GQ and Cosmopolitan featuring natural afro hairstyles with Michaela Coel and Keke Palmer, it is evident that there is some change happening in the way afro hair is seen. Curlture's impact on how many people see natural hair is massive because they were part of the natural hair movement. These queens even have a book out called 'Kink,' a brilliant book created purely to celebrate and uplift black women. Everything that Curlture does is worth supporting and you need to go and check them out.
As you can tell by my impassioned writing, I love black women. They are so fantastic, phenomenal and there's truly no one on this planet like black women. There are no substitutions for the brilliance of black women! This is effectively my love letter to Black British women and I wrote this whilst jamming out to Brown Skin Girl. I hope that after you have read this, that you will become intentionally more aware of the amazing black women that we have here in the UK. Let's stand by them, support them, and continue to champion them! Here's to black girl magic.
https://petition.parliament.uk/petitions/301079
Please sign the above petition!
---
'For the culture' – Darius Smith 12.6.2020
The Black Lives Matter Movement is back (I mean it never really left) and more powerful than ever after the brutal murder of George Floyd which came around the same time as the murders of Ahmaud Arbery, Belly Mujinga, Shukri Abdi, Breonna Taylor, and Tony Mcdade. I hear and see a lot of "For The Culture" chatter online but what culture are you speaking about?
My name is Darius Smith and, if you claim to be colour-blind, I am a black British young man. I may already fit some of the stereotypes that you already have for black men: I love chicken, I can dance and I love music. But no, I am not good at sports, I have not had sex with multiple women, (In actual fact, I am celibate) yes, I know who my father is and no, he has never been to jail. Before you read any further, it might be a good idea for you to leave any implicit biases that you have about black people at the door because this article is going to briefly discuss some of the culture that has been stolen from us. So, before you start chanting, "For the Culture!", you need to remember that all of Britain's culture is stolen. And whilst I still have your attention, no, you cannot touch my hair and, yes, it is true what they say about black men… we have humongous creativity and intelligence. Was that not quite the response you were looking for Karen? You ain't getting no bi-racial babies out of me. Shall we begin?
You want our culture but you do not want us!
From "box braids" to Brazilian bum lifts, tanning at bodybuilding shows to your twerk obsession, all of those are things that have been loved from black culture so much that they have been stolen and sometimes renamed.
Let's start off with tanning. I get it, you want to get that natural glow like what you can get on your Mediterranean holiday but have you ever stopped to think "Why do I feel I need to be darker to look better?" This is because, before the 'discovery' of black people in 1619, white people only knew that their skin was white. In fact, 18th-century makeup was all about pale white skin and rosy red cheeks. So, when did it change? After seeing how black bodies glistened in the sun, how our curves and muscles danced in the rain, a rise in jealously grew, that's the only logical explanation. We always want what we can't have but because of white privilege, the colonialists could take whatever they wanted and call it their own. This is the reason why tanned is considered sexier, why bodybuilders lather on the fake tan to show off their muscles and why darker-skinned men and – especially – women are looked down upon. With tanning, they want to look dark enough to be 'cool' like a black person but not dark enough to be a target like a black person.
We live in a generation that is obsessed with booty – I won't lie, I am a bum guy! This booty obsession again has come from not only black culture but from Latin culture. Just like with tanning, they love the look of it on Latin and black women but still don't love them enough to validate their existence as human beings. And alas the Brazilian bum lift was born or more culturally apt, the Kim K booty. Now, Kim Kardashian-West and the whole Kardashian/Jenner clan were not the first women to want to get big booty or lips like black and Latin women. For centuries, those same women were ridiculed for the things that came naturally to them but the white women wanted to take. But as soon as a Kardashian does it, it is trendy and in fashion, right? Wrong! It was beautiful and brilliant and amazing before it was even seen on their bodies. I am sure the Kardashian/Jenner ladies are kind, hard-working people, but now is definitely the time for them to be checking more than just their privilege.
Just a friendly reminder that Miley Cyrus did not invent the twerk. I know, that is a shock to your system, Paul but it was not her at all. Cast your minds back to the time where talk shows had actual celebrities sat next to each other, Lizzo (What a Queen) explained to Jonathan Ross that twerking was not simply invented in 2013.
"Twerk — first off, twerking's been 'out' for thousands of years, My ancestors been twerking, baby. Around a fire. They was around a fire, just twerking," – Quote from Paper Magazine.
Unfortunately, whenever you think of twerking, you think of Miley as the poster girl for it as she grinded on Robin Thicke during the 2013 VMAs to his disgusting song 'Blurred Lines'. Sometimes, I have nightmares about that Beetlejuice suit and that foam finger. Can we at least replace her with someone who deserves that title who can twerk with class and style? Pick anyone, Beyoncé, Lizzo, Rihanna, Nicki Minaj, Ciara, Cardi B, Chloe X Halle, basically anyone else!
Let's talk about hair. I am gonna keep this brief because hair could be a whole topic within itself. Its sentiment to black people, the way that the styles have been stolen by people like Katy Perry, Justin Bieber, Kim Kardashian-West, and the rest of the Kardashian lot. The historical and cultural value of hair is one that I could write about for a good while as my mum is a hairdresser but I think I can sum it all up like this… STOP TOUCHING BLACK PEOPLE'S HAIR, STOP COPYING BLACK PEOPLE'S HAIRSTYLES, PUT THE WEAVES AND CORNROWS DOWN, I DON'T CARE IF YOU ARE GOING TO NO-CHELLA KAREN, THEY WERE NEVER MADE OR INTENDED FOR YOU. PERIOD.
You cannot enjoy the rhythm and ignore the blues!
BBC Radio 1 Presenter Clara Amfo said it perfectly, "You cannot enjoy the rhythm and ignore the blues!" Let me just explain to you how much of the music that you listen to has been given to you and created by black people… yet we are never properly credited for it.
Rock and Roll, Dubstep, House, Reggae, Jazz, Grime, Hip Hop, and the list goes on and on. Karen and Paul, before you start burning your old record collection because you have just discovered that UB40 didn't create reggae, most music that is in the charts today has come from a black origin. The white supremacists are quaking right now! They thought they had one thing that black people didn't. It's fine white supremacists, you do have something that we don't, you have Katie Hopkins and Nigel Farage. You can keep them, Hun.
Back to the music… Before you listen to Black by Dave and start rapping it with your whole chest, know what you are talking about. There is so much depth and pain to what he says that is hard to understand if you haven't experienced it. Yes, it is a song, but it is not just a song, it is so much deeper than that. Just like the N-word in a song. Just do not say it, sing it, or repeat it. Personally, I wish it wasn't in music or our vocabulary altogether but that is just me. Whilst you're at it, stop saying the P and C-word, those words shouldn't be leaving anyone's mouth if I am being completely honest. Do you know how horrible it is to be at your Prom and to have the same middle-class white male request 'Paris' by Jay-Z and Kanye West 4 times? The DJ didn't even have the common courtesy or sense to play the clean version despite there being at least 7 black people in the room yet all of the white people were screaming the N-word. I was mortified every time so I walked out of prom and a handful of friends followed me in support. From the pop tones that you love to hear from Ed Sheeran, Rita Ora, Shawn Mendes, and Taylor Swift, as amazing as their music and voices are, a lot of it has stemmed from the music of black origin. All of these artists should be celebrating for the art that they have created but we should never forget the amazing voices and pioneers such as Sister Rosetta Tharpe (The godmother of Rock and Roll), Aretha Franklin, James Brown, Quincy Jones, Thomas A. Dorsey, Ella Fitzgerald, and Louis Armstrong to simply name a few.
You got a fetish for my skin, not me!
Karen about to feel shooketh again at this one but please stop forcing the image of black people needing to 'level up' and date white. This thought process of black people being a dating challenge or a sexual conquest is one that needs to be broken now. We are not your sex toys to play with, we are humans with emotions and feelings. Stop fetishising black women and men. Birthed in slavery, slave masterswould rape female slaves. In turn, this would make their white wives jealous that they could see something attractive or desirable in a black woman. This racist, misogynistic, and narcissistic mentality needs to stop. Men are not the only guilty ones. Women, please stop approaching black men with the line, "Is it true what they say about black men?" It is old, tired, and played out and we are beyond being another plaything for you to tell your girls that you had a black man last night. Black people are not your objects of desire that you can throw away once you are done with them. I know that is what has been done since 1619 and Karen, I get it you're used to it, but it is time for a massive change. If you want to love black people, you need to get to know us, all of us, the highs and the lows. You also need to realise that entering into an interracial relationship can diminish some of your white privilege, are you really ready for that to be taken away? On top of that, having bi-racial children will mean that you will gain a deeper insight into what it really means to be black.
Right now, a lot of black people, POC and white allies are hurting because of the vicious murders of George Floyd, Shukri Abdi, Tony Mcdade and so many others. For black people, these deaths have almost become routine, but we are starting to see some glimmers of justice so we cannot stop sharing our voices and experiences. Cultural appropriation is just one small part of this huge fight against racism, but when we start to be able to point them out and can see them in ourselves, this is when we can make small changes to make this world a better place.
You still can't touch my hair though, Paul!
Darius' Instagram to get in touch is @victoriousdarius
https://www.gofundme.com/f/use-your-privilege-to-change-systematic-racism?utm_source=customer&utm_medium=copy_link&utm_campaign=m_pd+share-sheet
Please sign the above petition !!!